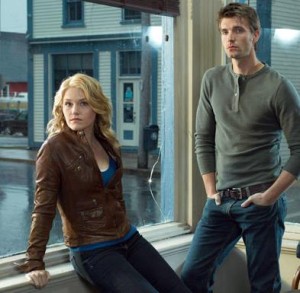 Still time to enter our DVD Contest to win a select UK series DVD.
WaterCooler
Quick Reviews:
– 8/7 Frost Giant (SyFy Saturday Movie)
– 8/7 Persons Unknown 1.09 Static
– 8/7 Being Human 2.03
– 8/8 True Blood 3.08 Night of the Sun
– 8/10 Warehouse 13 2.6 Around the Bend
– 8/10 The Guild 4.04 Moving On
– 8/12 Futurama 6.09 A Clockwork Origin
– 8/13 Eureka 4.6 Momstrosity
– 8/13 Haven 1.6 Fur
Listener email about Ball and Chain based on a graphic novel
Supernatural casting news
Supernatural Soundtrack
Spoilers about Torchwood The New World
Holiday episodes for Warehouse 13 and Eureka
Warehouse 13 casts Taxi's Judd Hirsch
Syfy to air Merlin season 3
BBCA will launch Outcasts in late 2010
Outcasts preview images
Bryan Fuller developing a series for SyFy
DC and Marvel want to create the next Smallville
Show runner admits V season 1 was inconsistent
No Ordinary Family blog
Julie Benz interview
Scififinal.com independent sci-fi online
Felicia Day interview w/video
IT Crowd Show Runners interview
Tuner Minute: The Hook. Join in the forum discussion here.
Back Porch:
43:05 – Listener voicemail on Eureka and Warehouse 13 plot crossover
46:22 – True Blood 3.08 Night of the Sun
53:07 – Warehouse 13 2.6 Around the Bend
57:15 – Haven 1.6 Fur
Episode #95 hosted by Kevin Bachelder, Wendy Hembrock and Brent Barrett. Recorded on 08/14/10. Edited by Brent Barrett.
Share your feedback by contacting us at 206-202-4182, or on Skype to TuningInToSciFiTV.
Theme song graciously provided by Beatnik Turtle.
Promo for PotentialCast podcast.
You can listen to the episode now by using the 'Play' button below.
Podcast: Play in new window | Download
Subscribe: Google Podcasts | RSS