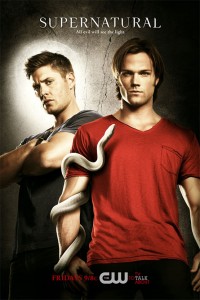 Our listeners know we love Supernatural and regularly discuss episodes. Here is the first in a series we're calling "the road so far" as we journey through Supernatural Season 6.
Wendy sat down with special guests TV critic Maureen Ryan from AOL TV Squad and TV Guide Network's Tina Charles to discuss the Winchesters, two of our favorite demon hunters and sibling rivals.
Even if you aren't currently watching Supernatural, you can listen to the first portion of non-spoilery discussion about why we're hooked on watching Sam and Dean navigate the twisty roads between heaven, hell and the dark and scarey places in between.
The spoilery discussion begins at the 16:05 mark. We talk about everything through Episode 6.07 "Family Matters" – especially Sam and Dean's characters, the Big Bads, Mysteries and Questions.
Read and hear more from our guests at:
Stay Tuned – Maureen Ryan's blog on AOL TV Squad
Talking TV with Ryan and Ryan – a podcast about TV by Maureen Ryan and Ryan McGee
TV Goodness – Tina Charles's blog about TV
Supernatural recaps on TV Guide.com – Tina Charles' episode recaps
We recommend following @MoRyan and @TinaCharlesTV on Twitter too!
You can listen to the episode now by using the 'Play' button below.
Episode #109 hosted by Wendy Hembrock. Recorded on 11/08/10. Edited by Brent Barrett.
Share your feedback by contacting us at 206-202-4182, on Skype to TuningInToSciFiTV or on Twitter @TuningInToSciFi.
Theme song graciously provided by Beatnik Turtle.
Podcast: Play in new window | Download
Subscribe: Google Podcasts | RSS