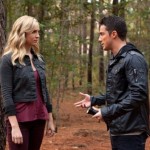 WaterCooler
– Poll: What is show #11 in our Top 100 Genre TV Shows Countdown?
– Top 100 Genre TV Shows countdown continues
– Quick Reviews
– Listener feedback and News
– Tuner Minute: Sidekicks Defined
Join in the forum discussion here.
Back Porch:
40:18 – Chuck 4.13 Chuck vs. the Push Mix
47:35 – Vampire Diaries 2.12 The Descent
56:42 – Supernatural 6.13 Like a Virgin
You can listen to the episode now by using the 'Play' button below.
Follow the break for detailed Show Notes.
Show Notes and Links
Quick Reviews
– 1/29 Primeval4.05 Episode 5
– 1/29 Mega Python vs Gatoroid (SyFy movie)
– 1/30 Being Human UK 3.02 Adam's Family
– 1/31 Chuck 4.13 Chuck vs. the Push Mix
– 1/31 The Cape 1.05 Dice
– 1/31 Being Human US 1.03 Some Thing to Watch Over Me
– 2/2 V 2.4 Unholy Alliance
– 2/3 The Big Bang Theory 4.14 The Thespian Catalyst
– 2/3 The Vampire Diaries 2.13 Daddy Issues
– 2/4 Young Justice 1.05 Schooled
– 2/4 Smallville 10.13 Collateral
– 2/4 Fringe 3.11 Reciprocity
– 2/4 Supernatural 6.13 Like a Virgin
Listener feedback on the Top 100 Genre TV Shows Countdown
Listener email about all the upcoming fall genre TV pilots
ABC orders 2 genre pilots
Buffy writers sell Grimm's Fairy Tales pilot to NBC
Wonder Woman script leaked
NBC orders Inception-style drama
NBC reduces The Cape to 10 episodes
The Cape is the best "bad" new show
The Event returns March 7
Futurama renewal likely
Mega Python vs Gatoroid ratings
Treasure Island on Syfy in 2012
February SyFy original movies – Iron Invader (2/12) and Area 51 (2/26)
Vampire Diaries spoilers through season 2 finale
Smallville teasers for rest of series
V may end season 2 with a Cliffhanger
Yvonne Strahovski and Jensen Ackles voicing new video game Third Birthday
Fringe interviews with John Noble (Walter); and Josh Jackson (Peter)
Fringe ratings drops a bit; Supernatural and Smallville return same numbers as pre-hiatus
Episode #123 hosted by Wendy Hembrock, Brent Barrett and Kevin Bachelder. Recorded on 2/05/11. Edited by Brent Barrett.
Share your feedback by contacting us at 206-202-4182, or on Skype to TuningInToSciFiTV. Follow us on Twitter @TuningIntoSciFi or find us on Facebook.
Theme song graciously provided by Beatnik Turtle.
Promo for The Signal podcast.
Podcast: Play in new window | Download
Subscribe: Google Podcasts | RSS