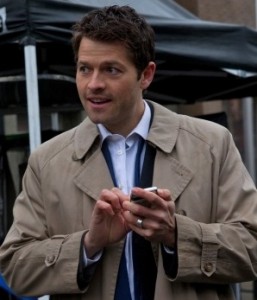 WaterCooler
– Vote in our Poll: What's your favorite decade of genre TV?
– Send us your voicemail or audio comments on the Top 100 Genre TV Shows Countdown to be included in our After-Countdown Wrap Up show. Share your thoughts on the countdown, Your Top 20 list, Shows you discovered or plan to re-watch.
– Enter our contest: Win Dollhouse the Series on DVD
– Quick Reviews
– Listener feedback and News
– Tuner Minute: Never Saw It. Join in the forum discussion here.
Back Porch:
34:55 – Vampire Diaries
43:43 – Being Human UK
55:40 – Supernatural
You can listen to the episode now by using the 'Play' button below.
Follow the break for detailed Show Notes.
Show Notes and Links
Quick Reviews
– 2/19 Primeval 4.07 Episode 7 season finale
– 2/20 Being Human UK 3.05 The Longest Day
– 2/21 Being Human US 1.06 It Takes Two to Make a Thing Go Wrong
– 2/21 The Cape 1.08 The Lich: Part 2
– 2/21 Chuck 4.16 Chuck Versus the Masquerade
– 2/22 No Ordinary Family 1.16 No Ordinary Proposal
– 2/22 V 2.07 Birth Pangs
– 2/24 The Vampire Diaries 2.16 The House Guest
– 2/24The Big Bang Theory 4.17 The Toast Derivation
– 2/25 Bar Karma 1.03 An Open Mind
– 2/25 Fringe 3.15 Subject 13
– 2/25 Smallville 10.15 Fortune
– 2/25 Supernatural 6.15 The French Mistake
– 2/25 Merlin 3.07 The Castle of Fyrien
Listener Email and Voicemails about US Being Human, Big Bang Theory and Community, and last week's Tuner Minute – the Last Straw.
IntoNow app for iPhone
Terminator:Sarah Connor Chronicles running on SyFy Channel starting April 7
CW to re-air the Smallville pilot will air on the CW on April 8
Amazon Instant Streaming for Prime Members; Amazon Prime Instant details
Amazon Prime vs. Netflix: Video Streaming Showdown
Being Human Series 3 DVD coming May 3
CBS genre content on Netflix
Eve Myles (Gwen) discusses Torchwood
Game Of Thrones extended video on YouTube
Game Of Thrones Promo Package
Clicker.com's Internet Television Guide
Falling Skies trailer
Fringe producers give out teasers
Smart Pop Books looking for Uber Fringe Fan book reviewers
Episode #126 hosted by Wendy Hembrock, Brent Barrett and Kevin Bachelder. Recorded on 2/26/11. Edited by Brent Barrett.
Share your feedback by contacting us at 206-202-4182, or on Skype to TuningInToSciFiTV. Follow us on Twitter @TuningIntoSciFi or find us on Facebook.
Theme song graciously provided by Beatnik Turtle.
Promo for M*A*S*H 4077 podcast.
Podcast: Play in new window | Download
Subscribe: Apple Podcasts | Android | Google Podcasts | RSS