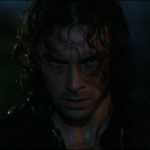 WaterCooler
– Vote in our Poll: Which is your favorite Star Trek spin-off series?
– Send us your voicemail or audio comments on the Top 100 Genre TV Shows Countdown to be included in our After-Countdown Wrap Up show being recorded the weekend of March 12/13. Share your thoughts on the countdown, Your Top 20 list, Shows you discovered or plan to re-watch.
– Congrats to the winner of our Win Dollhouse the Series on DVD giveaway: Sue from Aberdeen, NJ
– Quick Reviews
– Listener feedback and News
– Tuner Minute: Blind Spot. Join in the forum discussion here.
Back Porch:
38:36 – Being Human UK 3.07 Though The Heavens Fall
44:55 – Fringe 3.16 Os
51:03 – V 2.09 Devil In A Blue Dress
You can listen to the episode now by using the 'Play' button below or follow the break for detailed Show Notes.
Show Notes and Links
Quick Reviews
– 3/06 Being Human UK 3.7 Though the Heavens Fall
– 3/07 Being Human US 1.8 Children Shouldn't Play with Undead Things
– 3/07 Stargate Universe 2.11 Deliverance
– 3/08 V 2.9 Devil in a Blue Dress
– 3/10 The Big Bang Theory 4.18 The Prestidigitation Approximation
– 3/11 Bar Karma 1.5 Fair Catch
– 3/11 Fringe 3.16 Os
– 3/11 Young Justice 1.9 Bereft
– 3/11 Merlin 3.09 Love In The Time Of Dragons
Doctor Who Premieres in the UK & the US on April 23rd
Fox Pushes Premiere of 'Terra Nova' to Fall; Cancels May Preview
TNT Sets 'Falling Skies' Premiere For June 19th
Video Preview of The Cape's Deadly Series Finale
Morena Baccarin Teases the Big, Naked V Reveal and a 'Totally Nuts' Season Finale
Sci-Fi TV's Most Memorable Female Characters
Disney Acquires New Big Scifi Franchise "The Runner"
Kristin Kreuk Joins 17th Precinct Pilot
Robert Carlyle (Rush on SGU) joins ABC fairytale pilot as magician Rumpelstilskin
Keira Knightly Cast in SyFy's NEVERLAND Miniseries
Thomas Dekker Joins Kevin Williamson's Secret Circle
Fringe actor who plays Lincoln Lee talks about his upcoming arc
BBC will air Becoming Human web series as a 50 minute special episode
Jason Priestley to Direct and Guest Star in Haven
Why Don't TV Ratings Measure Online Viewing, Or iTunes, Or…?
Eureka – Street Date (June 21) Scheduled for 'Season 4.0' DVDs
Warehouse 13 – 'Season 2' Release Date (June 28) Revealed
Episode #128 hosted by Brent Barrett, Kevin Bachelder, and Wendy Hembrock. Recorded on 3/12/11. Edited by Brent Barrett.
Share your feedback by contacting us at 206-202-4182, or on Skype to TuningInToSciFiTV. Follow us on Twitter @TuningIntoSciFi or find us on Facebook.
Theme song graciously provided by Beatnik Turtle.
Promo for Technorama podcast.
Podcast: Play in new window | Download
Subscribe: Apple Podcasts | Android | Google Podcasts | RSS