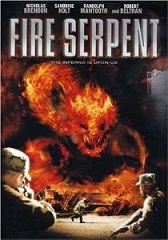 The next DVD title that we'll be covering on Saturday B Movie Reel will be the 2007 release Fire Serpent.
Here's the description…
A solar flare from the sun sends a serpentine alien of fire to Earth, where it begins to wreak havoc among a small community in its search for more fuel, in the form of a large military oil reserve.
You can help to support the podcast by purchasing your copy of Fire Serpent here.
Video preview below…