This is the first podcast in our new vintage series and we start off with a cult classic! Join Kevin, Christine from MI and Robin Burge from Media Junkyard, FisherCast and Movie Snobbery with Robin and Steph as they discuss the 1984 title "Night of the Comet".
You can listen to the episode now by using the 'Play' button below or follow the break for more detailed show notes.

Items mentioned in this episode:
You can learn more about our upcoming Vintage series of Saturday B Movie Reel podcasts by checking out this blog post and forum thread.
Be sure to checkout our Dinocroc vs Supergator contest where you could win yourself a copy of this classic courtesy of Anchor Bay Entertainment. Full details are available here.
If you're a fan of Night of the Comet we highly recommend that you checkout the great fan site NightOfTheComet.info for lots of great information and links to other resources about the movie.
You can find the Forgotten Flix podcast for Night of the Comet here.
You can support our podcast by purchasing Night of the Comet here.
For additional information about this movie:
Ratings: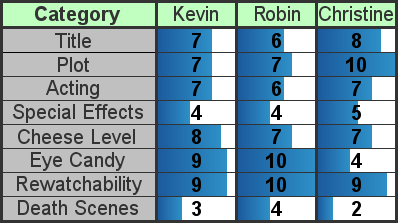 Feel free to post your ratings as a comment below or join in on the discussion on our forum.
Podcast: Play in new window | Download
Subscribe: Google Podcasts | RSS