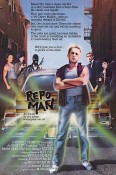 The next vintage title coming up on Saturday B Movie Reel will be the the 1984 cult classic Repo Man.
Here's the description…
Lacking role models and a purpose, baby-faced delinquent Otto (Emilio Estevez) finds a code of honor and a higher calling when he hooks up with a band of contemporary "knights": the repo men. A "seasoned" auto repossessor (Harry Dean Stanton) shows Otto the ropes, and when a big reward is offered for an elusive 1964 Malibu, Otto dodges G-men, cops, religious kooks — you name it — in a frenzied quest for the car. Does his fate lie in its trunk?
You can support our podcast by purchasing Repo Man on DVD here.
Video trailer/preview below…