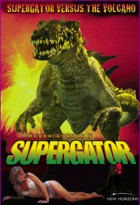 We've got an older Syfy Original Movie coming up when Kevin covers Supergator (2007).
Here's the description…
Scott Kinney is an American geologist monitoring a local volcano when the Supergator, a prehistoric alligator recreated from fossilized DNA escapes from a secret bio-engineering research center. Kinney joins forces with another scientist and a Texan alligator hunter as they pursue the monster as it heads down river intent on destroying a luxurious resort packed with tourists.
Video trailer/preview below…
We'll be discussing this movie on an upcoming episode of our Saturday B Movie Reel podcast.
We have a Fans of Syfy Original Movies Facebook group if you want to discuss the Syfy movies and other fun scifi/fantasy B movies with fellow fans. We also have a Saturday B Movie Reel Facebook fan page if you want to keep up on all our activities.
You can also follow us on Twitter as @SatBMovieReel.