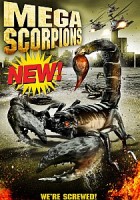 On today's podcast Kevin covers Mega Scorpions (aka Deadly Stingers) (2013) which is available via FullMoonStreaming.com.
Here's the description…
In a small U.S. town toxic waste has been illegally dumped for years causing the local scorpion population to grow into six-foot-long killers as a result. As local residents are killed by the scorpions, a group of teenage parolees becomes trapped in a halfway house as they try to fight the killer Mega Scorpions off.
We have a Fans of Syfy Original Movies Facebook group if you want to discuss the Syfy movies and other fun scifi/fantasy B movies with fellow fans. We also have a Saturday B Movie Reel Facebook fan page if you want to keep up on all our activities.
You can also follow us on Twitter as @SatBMovieReel.
Feel free to post your ratings as a comment below or join in on the discussion on our forum.
Podcast: Play in new window | Download
Subscribe: Apple Podcasts | Android | RSS