THIS CONTEST IS NOW CLOSED
Name your favorite genre book and get a chance to win a Smart Pop Book. Unfamiliar with Smart Pop books?
Smart Pop covers subjects varying from Buffy the Vampire Slayer to 24's Jack Bauer and Spider-Man.
Contributors include psychologists, scientists, authors, screenwriters, comics scribes, and passionate fans! These smart and funny anthologies about your favorite television, books, and films will make you reconsider some of your favorite characters.
We have one book of your choosing from Smart Pop's catalog to give away.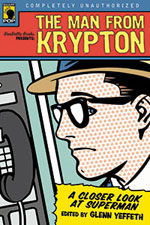 Just tell us: What is the title of your favorite genre book and why? We're talking any genre book you've ever read. You'll be entered in a random drawing. The winner can select one book from the Smart Pop catalog. Submit an email, voicemail or Skype message with your answer. Include your name, email address and home location.
The contest begins today. Submissions must be received by Friday April 30, 2010 at 11:59 PST.
The TIST crew has read a few of their titles already, including:
– Finding Serenity (on Firefly)
– In the Hunt (on Supernatural)
– Seven Seasons of Buffy
– Farscape Forever!
– Five Seasons of Angel
One entry per person. TIST listeners anywhere in the world may enter the contest. Read on for the fine print and contest details…

Contest Rules
Submitting your email or voicemail permits your name to be entered in a random drawing for one title from the Smart Pop collection of titles.
Eligible Entry:
Provide the answer to the question above: Tell us the Title your favorite genre book and why it's your favorite.
Include your First and Last Name, your Location and your Email Address to contact you if you win. Please note that we will not use or share your e-mail address with anyone for any reason. It is only used for us to contact you should you win. Any entry not containing these three bits of information will not be considered in the drawing.
Submit your entry:
You can submit our answer in any one of these ways:
– Leave a message with your entry on our Voicemail at 206-202-4182.
OR
– Email your entry to contest@tuningintoscifitv.com with the Subject of Genre Book Contest.
OR
– Use Skype to call tuningintoscifitv and leave a message with your entry.
The winning entry will be drawn at random from all valid submissions. One entry per person. The winners will be announced on Tuning in to SciFi TV Episode #80 and notified by email.
More Fine Print: The selection is based on a random drawing from all valid entries. The actual answers provided are not considered when drawing the winner.