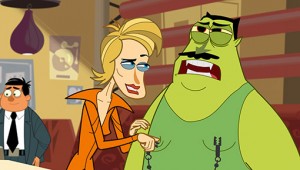 You may have noticed we like our animated shows to include some supernatural beings, hellfire and demon spice, right?
So we are burning with anticipation for the holy havoc that Jane Lynch (aka Sue from Glee, plus Party Down, and the Christopher Guest movies) will wreak on the Neighbors from Hell. We can only hope that Sue "Cs" fit to bring her bullhorn to the 'burbs.
Set your DVRs for Neighbors from Hell on Mondays at 10pm EST on TBS.