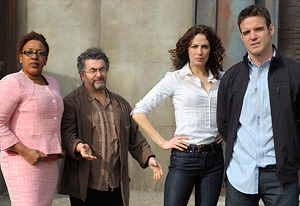 WaterCooler
Quick Reviews:
– 7/2 IT Crowd 4.02 The Final Countdown
– 7/5 Neighbors from Hell 1.5 Family from Hell
– 7/5 Persons Unknown 1.5 Incoming
– 7/6 Warehouse-13 2.1 Time Will Tell
– 7/6 SOLO 1.01 We're Canceled
– 7/8 Futurama 6.05 Proposition Infinity
– 7/9 Eureka 4.1 Founders' Day
– 7/9 Haven 1.1 Welcome to Haven
Listener email on Saving Grace, Stargate Universe
Listener Voicemail on Doctor Who
Warehouse-13 tops Tuesday cable ratings
Sanctuary back to Steampunk "roots"
Casting news for SyFy's Alphas
No Ordinary Family scheduled for Tuesdays at 8pm this fall
Set photos from Falling Skies
Eve Myles interview about Torchwood series 4
Dollhouse Season 2 DVD coming 10/12
The usual suspects get Emmy nominations
SyFy Movie – Red – with Felicia Day
Tuner Minute: The Death of Me. Join in the forum discussion here.
Back Porch:
34:43 – Warehouse-13 2.1 Time Will Tell
43:05 – Eureka 4.1 Founders' Day
53:29 – Babylon 5 Season 2 Summer Rewatch: 2.7 Soul Mates; 2.8 A Race Through Dark Places
Episode #90 hosted by Wendy Hembrock, Brent Barrett and Kevin Bachelder. Recorded on 07/10/10. Edited by Brent Barrett.
Share your feedback by calling us at 206-202-4182, or on Skype to tuningintoscifitv.
Theme song graciously provided by Beatnik Turtle.
Promo for Bite On This podcast.
You can listen to the episode now by using the 'Play' button below.
Podcast: Play in new window | Download
Subscribe: Google Podcasts | RSS