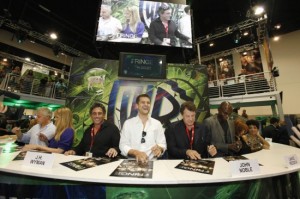 Last Call for discussion of San Diego Comic Con! Have you turned your swag bags into an outfit yet? Nice work chum.
Holy Spoilers! Watch out below. And don't worry, we won't poke you in the eye with a pen just for sitting near us.
00:50 – True Blood
05:30 – ComicCon News And Spoilers (Vampire Diaries, No Ordinary Family, The Event, Smallville, Supernatural)
10:38 – Kevin and Wendy talk about attending ComicCon
15:20 – TV Guide ComicCon Fringe Special Issue
16:15 – Futurama
18:40 – SOLO – The Series ends first half of season
20:35 – Buffy Motion Comics
21:57 – Dollhouse Episode Commentary from Sofa Dogs Podcast featuring Kevin
22:52 – DragonCon American SciFi Track Needs Panelists
Listen to the Last Call now by using the 'Play' button below.
Podcast: Play in new window | Download
Subscribe: Google Podcasts | RSS