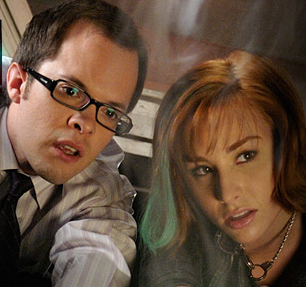 Kevin sat in on an interview with the wondertwins of geek – Claudia (Allison Scagliotti) from Warehouse-13 and Fargo (Neil Grayston) from Eureka, to discuss their cross-over episodes airing this week on channel.  Oh, and we talk about other stuff too.
Listen to the episode now by using the 'Play' button below.
00:50 – Eureka
08:05 – True Blood "Truebies and Newbies"
09:40 – Neighbors from Hell
11:45 – Futurama
13:52 – The IT Crowd
16:15 – Destination Truth premiere date
17:06 – Another Dollhouse commentary for Sofadogs Podcast
17:30 – Listener feedback about Survivors
20:06 – Supernatural Panel at ComicCon (Anime, Season Six)
21:15 – ComicCon Interview with CCH Pounder from Warehouse 13
23:40 – Kevin interviews Allison Scagliotti (Warehouse 13) and Neil Grayston (Eureka). A transcript of the call is available here.
Podcast: Play in new window | Download
Subscribe: Google Podcasts | RSS