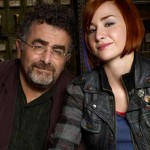 WaterCooler
– Thanks to everyone who sent in your list of Top Genre TV Shows. Stay tuned for the countdown in January!
– Quick Reviews
– Listener feedback and News
– Tuner Minute: Reeling Them In Join in the forum discussion here.
Back Porch:
00:45:30 – Fringe 3.09 Marionette
00:56:20 – Warehouse 13 2.13 Secret Santa
01:01:40 – The Vampire Diaries 2.11 By the Light of the Moon
You can listen to the episode now by using the 'Play' button below.
Follow the break for detailed Show Notes.
Show Notes and Links
12/5 – Lost Girl 1.12 (Dis)Members Only
12/5 – The Walking Dead 1.06 TS-19 (Season Finale)
12/7 – No Ordinary Family 1.10No Ordinary Sidekick
12/7 – Eureka 4.10 O Little Town…
12/7 – Warehouse 13 2.13 Secret Santa
12/9 – Misfits 2.05 Episode 2.5
12/9 – The Vampire Diaries 2.11 By the Light of the Moon
12/9 – Fringe 3.09 Marionette
12/10 – Smallville 10.11 Icarus
12/10 – Supernatural 6.11 Appointment in Samarra
12/10 – Sanctuary 3.09 Vigilante
Fringe Return Date Change
First Friday Fringe Episode Title
Doctor Who Christmas Special
SyFy's holiday marathons
SyFy picks up Alphas
10 minutes about Game of Thrones
SyFy's Holiday shows get good ratings
The Walking Dead gets series high ratings
Robert Kirkman interview post-finale
Supernatural wins TV Guide cover
Supernatural cast and crew video
Fans contribute to Smallville
ABC and ABC Family first to get to Netflix
TV's most shocking moments of 2010
Episode #114 hosted by Brent Barrett, Kevin Bachelder, and Wendy Hembrock. Recorded on 12/11/10. Edited by Brent Barrett.
Share your feedback by contacting us at 206-202-4182, or on Skype to TuningInToSciFiTV. Follow us on Twitter @TuningIntoSciFi.
Theme song graciously provided by Beatnik Turtle.
Promo for On the Edge of Darkness.
Podcast: Play in new window | Download
Subscribe: Apple Podcasts | Google Podcasts | RSS