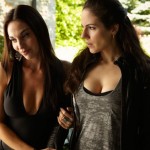 WaterCooler
– New Tapatalk forum tool
– Quick Reviews
– Listener feedback and News
– Tuner Minute: Do You Really Want to Hurt Me? Join in the forum discussion here.
Back Porch:
00:45:02 – Lost Girl 1.13 Blood Lines
00:52:49 – Misfits 2.06 Episode 2.6
01:01:26 – Sanctuary 3.10 Hollow Men
You can listen to the episode now by using the 'Play' button below.
Follow the break for detailed Show Notes.
Show Notes and Links
12/11 – SyFy Movie Ice Quake
12/12 – Lost Girl 1.13 Blood Lines
12/16 – Big Bang Theory 4.11 The Justice League Recombination
12/16 – Misfits 2.06 Episode 2.6
12/17 – Sanctuary 3.10 Hollow Men
Stargate Universe canceled
New promos for 'The Cape'
BBC America's SciFi Shows
Syfy Films
Fringe on Fridays Rebranding
Misfits renewed
Torchwood casting news
V, Vampire Diaries, Supernatural spoilers
Alcatraz casting news
More Alcatraz Casting News
FX's POWERS gets a showrunner
Being Human UK Casting News
Being Human US spoilers
Clips from Doctor Who Christmas Special
Doctor Who Cast sings Christmas carols
Behind the scenes of Doctor Who Christmas special
Candice Accola (aka Caroline) Interview
New Wonder Woman series info
Lynda Carter interview
Matt Roush's Top 10 TV 2010
Episode #115 hosted by Kevin Bachelder, Wendy Hembrock, and Brent Barrett. Recorded on 12/18/10. Edited by Brent Barrett.
Share your feedback by contacting us at 206-202-4182, or on Skype to TuningInToSciFiTV. Follow us on Twitter @TuningIntoSciFi.
Theme song graciously provided by Beatnik Turtle.
Promo for Hexed: Sisterhood of the Supernatural.
Podcast: Play in new window | Download
Subscribe: Apple Podcasts | Google Podcasts | RSS