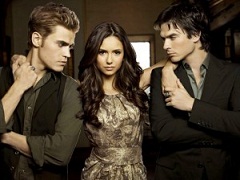 WaterCooler
– New Poll: Which Genre Show That's "On The Bubble" Would You Most Like To See Return?
– New contest: Win Fringe Season 1 on DVD. Click here for details.
– Quick Reviews
– Listener feedback and News
– Tuner Minute: Away From Home. Join in the forum discussion here.
Back Porch:
44:33 – Vampire Diaries 2.22 As I Lay Dying
53:38 – Chuck 4.23 Chuck Versus the Last Details
59:43 – Stargate Universe 2.20 Gauntlet
You can listen to the episode now by using the 'Play' button below or follow the break for detailed Show Notes.

Show Notes and Links
Quick Reviews
– 5/07 Doctor Who 6.03 The Curse of the Black Spot
– 5/07 Almighty Thor Syfy Original Movie
– 5/08 Game of Thrones 1.04 Cripples, Bastards, and Broken Things
– 5/09 Chuck 4.23 Chuck Versus the Last Details
– 5/09 Sanctuary 3.15 Wingman
– 5/09 Stargate Universe 2.20 Gauntlet
– 5/12 The Big Bang Theory 4.23 The Engagement Reaction
– 5/12 The Vampire Diaries 2.22 As I Lay Dying
– 5/13 Camelot 1.07 The Long Night
– 5/13 Smallville 10.21/22 Finale
Chuck Renewed For A Final Season
The Event Cancelled By NBC
V and No Ordinary Family Cancelled By ABC
Fox Is First Out of the Gate with Orders for J.J. Abrams' Alcatraz
NBC Orders Grimm and Inception-Like Drama
Once Upon a Time Picked Up By ABC
NBC Rejects Wonder Woman
NBC Passes On Ron Moore's The 17th Precinct
New Animated Star Trek Series Is Being Planned
Syfy prepping Warehouse-13 spinoff about HG Wells
The Nine Lives Of Chloe King Premieres 6/14
Trailer for Supernatural: The Anime Series
Actor Cast To Play New Character 'Rudy' on Misfits
Caprica Co-Creator To Helm 'Falling Skies' Season 2
HBO Go To Get Game of Thrones Ep 7 A Week Early
Failed SGU Movie Would Have Included Entire Franchise
An Open Letter to Stargate Fans From Syfy Senior Vice President Craig Engler
Torchwood: Miracle Day Episode Titles Revealed
Torchwood – The Complete Original UK Series Arrives on DVD and Blu-ray July 19th
Fringe Producers Talk About Season Finale
Episode #138 hosted by Brent Barrett, Wendy Hembrock and Kevin Bachelder. Recorded on 5/14/11. Edited by Brent Barrett.
Share your feedback by contacting us at 206-202-4182, or on Skype to TuningInToSciFiTV. Follow us on Twitter @TuningIntoSciFi or find us on Facebook.
Theme song graciously provided by Beatnik Turtle.
Promo for The Dead Robots' Society Podcast.
Podcast: Play in new window | Download
Subscribe: Google Podcasts | RSS