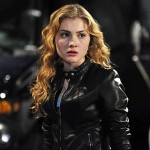 WaterCooler
– Poll: What was the best standout performance by an actor this season?
– New contest: Win a signed copy of Love And Capes Volume 1. Click here for details.
– Quick Reviews
– Listener feedback and News
– Tuner Minute: Move Me, Don't Depress Me. Join in the forum discussion here.
Back Porch:
37:51 – Doctor Who (mid-series finale)
42:06 – The Nine Lives Of Chloe King 1.01 Pilot
47:58 – Babylon 5 3.05 Voices of Authority & 3.06 Dust to Dust
57:18 – Teen Wolf 1.03 Pack Mentality
You can listen to the episode now by using the 'Play' button below or follow the break for detailed Show Notes.

Show Notes and Links
Quick Reviews
– Babylon 5 3.05 Voices of Authority
– Babylon 5 3.06 Dust to Dust
– 6/11 Syfy Original Movie Ice Road Terror
– 6/12 Game of Thrones 1.09 Baelor
– 6/13 Teen Wolf 1.03 Pack Mentality
– 6/13 Sanctuary 3.19 Out of the Blue
– 6/14 Primeval 5.04 Episode #5.4
– 6/14 The Nine Lives of Chloe King 1.01 Pilot
– Early Preview Ugly Americans 2.01 Better Off Undead
Doctor Who curtailed for 2012, "special run" planned for 50th anniversary
Teasers on True Blood and Torchwood
First 8 minutes of True Blood (spoilers!)
UK Scfi Series Misfits Is Coming to Hulu
Robert Kirkman on Walking Dead Season 2
Tom Hanks bringing American Gods to HBO
Dynamite's 'Warehouse 13' Comic Debuts in August
Comic Con panel lineups from Starz and HBO and Fox
Short Interview with Arthur Darvill (Rory)
Doctor Who fans describe the awesome that is Rory
Captain Jack and River Song Together on Doctor Who?
Upcoming DVD releases:
Vampire Diaries season 2 Aug 30th
Fringe season 3 Sept 6th
No Ordinary Family Complete Series on Sept 6th
Supernatural season 6 Sept 13th
Internet Surfing, Reading, Social Networking Most Likely To Distract TV Watchers
Episode #143 hosted by Brent Barrett, Wendy Hembrock and Kevin Bachelder. Recorded on 6/18/11. Edited by Brent Barrett.
Share your feedback by contacting us at 206-202-4182, or on Skype to TuningInToSciFiTV. Follow us on Twitter @TuningIntoSciFi or find us on Facebook.
Theme song graciously provided by Beatnik Turtle.
Promo for The Nut Gallery.
Podcast: Play in new window | Download
Subscribe: Google Podcasts | RSS