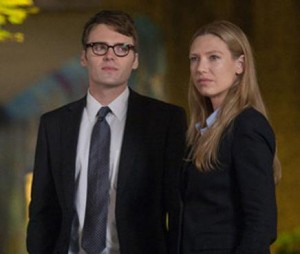 Water Cooler:
– New Poll: Which new fall show are you most excited about?
– New Contest: Win Fringe seasons 1-3 on DVD. Details on how to enter are listed here.
– Listener feedback and News
– Tuner Minute: The Castaway Playlist.  Join in the forum discussion here.
Back Porch:
0:40:56 Fringe 4.01 Neither Here Nor There
0:53:56 Supernatural 7.01 Meet the New Boss
1:03:43 The Vampire Diaries 3.02 The Hybrid
You can listen to the episode now by using the 'Play' button below or follow the break for detailed Show Notes.
Show Notes and Links
Quick Reviews
– 9/17 Doctor Who 6.11 The God Complex
– 9/18 Lost Girl 2.03 Scream a Little Dream
– 9/19 Alphas 1.10 The Unusual Suspects
– 9/19 Death Valley 1.04 Two Girls, One Cop
– 9/19 Eureka 4.20 One Giant Leap…
– 9/19 Warehouse 13 3.10 Insatiable
– 9/20 The Guild 5.09 Invite Accepted
– 9/22 The Big Bang Theory 5.01/5.02 The Skank Reflex Analysis/The Infestation Hypothesis
– 9/22 The Secret Circle 1.02 Bound
– 9/22 The Vampire Diaries 3.02 The Hybrid
– 9/23 Iron Man 1.09 A Duel of Iron (aka vs Iron Man)
– 9/23 Fringe 4.01 Neither Here Nor There
– 9/23 Haven 2.11 Business as Usual
– 9/23 Supernatural 7.01 Meet the New Boss
More Details on Walking Dead Webisodes
More Details on Walking Dead After Show
Doctor Who's Christmas Special filming, guest-stars announced
BBCA Official Doctor Who Tumblr
FOX Order 13 Episodes of New Tim Kring Series "Touch"
Fringe Producers Speak About New Season
Mini-interview with Moon Bloodgood
Comic-con Icon Felicia Day
What Spielberg Thought of Falling Skies
Netflix to Split DVD and Streaming Services
Comic Description of Netflix
Making Monsters: New Miniseries Goes Behind The Scenes Of Creature Creation
Episode #160 hosted by Brent Barrett, Wendy Hembrock and Kevin Bachelder. Recorded on 9/24/11. Edited by Brent Barrett.
Share your feedback by contacting us at 206-202-4182, or on Skype to TuningInToSciFiTV. Follow us on Twitter @TuningIntoSciFi or find us on Facebook.
Theme song graciously provided by Beatnik Turtle.
Promo for The Terra Nova podcast.
Podcast: Play in new window | Download
Subscribe: Google Podcasts | RSS