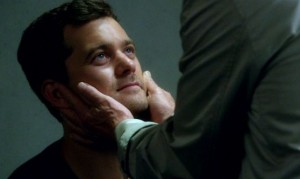 Water Cooler:
– New Poll: Are you saturated with horror (vampires, zombies, ghosts, werewolves, witches) genre shows yet?
– Contest: Win The Walking Dead Season One on DVD or Blu-Ray
– News
– Tuner Minute: Only Room for One
Join in the forum discussion here.
Back Porch:
0:40:51 Fringe 4.05 Novation
0:52:36 The Walking Dead 2.03 Save the Last One
1:01:28 Once Upon A Time 1.02 The Thing You Love Most
You can listen to the episode now by using the 'Play' button below or follow the break for detailed Show Notes.
Show Notes and Links
Quick Reviews
Sat 10/29
– Syfy original movie Zombie Apocalypse
Sun 10/30
– Lost Girl 2.06 It's Better to Burn Out Than Fae Away
– Misfits 3.01 Episode #3.1
– Once Upon A Time 1.02 The Thing You Love Most
– The Walking Dead 2.03 Save the Last One
Mon 10/31
– Death Valley 1.09 Tick, Tick Boom
– Terra Nova 1.05 Bylaw
Wed 11/2
– American Horror Story 1.05 Halloween: Part 2
Thu 11/3
– The Big Bang Theory 5.08 The Isolation Permutation
– The Vampire Diaries 3.08 Ordinary People
Fri 11/4
– Chuck 5.02 Chuck vs. the Bearded Bandit
– Fringe 4.05 Novation
– Sanctuary 4.05 Resistance
– Supernatural 7.07 The Mentalists
– Young Justice 1.16 Failsafe
American Horror Story Renewed for a Second Season
ABC Gives Full-Season Order to Once Upon a Time
The Vampire Diaries Holiday Hiatus Dates
Promo Posters and Behind the Scenes Videos for A&E's Bag of Bones
True Blood casting news
Joshua Jackson talks about Peter's big return to Fringe
Fringe Spoilers! (Peter related)
Interview with the Grimm (David Giuntoli)
Doctor Who Cast and Crew 500 Miles Video
Another Fun Doctor Who Cast and Crew Video
Doctor Who Fans To Walk 500 Miles
Future Not So Bright for Torchwood
Todd and the Book of Pure Evil
Warehouse-13 Farnsworth for iPhone
Episode #166 hosted by Kevin Bachelder, Wendy Hembrock and Brent Barrett. Recorded on 11/05/11. Edited by Brent Barrett.
Share your feedback by contacting us at 206-202-4182, or on Skype to TuningInToSciFiTV. Follow us on Twitter @TuningIntoSciFi or find us on Facebook.
Theme song graciously provided by Beatnik Turtle.
Promo for Bite On This – a Vampire Diaries podcast.
Podcast: Play in new window | Download
Subscribe: Google Podcasts | RSS