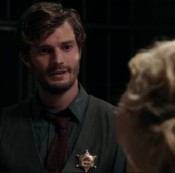 Water Cooler:
– Contest: Win Community Season 1 and Community Season 2 on DVD. Listen for the code word played during water cooler and include in your entry. Entry deadline is 12/30.
– Best Current Genre TV Show Poll Series – semifinals. Stop by the Blog daily to vote in each bracket!
– News widget on our blog also posts to our Twitter and Facebook accounts.
– Tuner Minute: Love 'em and Leave 'Em.  Join in the forum discussion here.
Back Porch:
44:10 – Misfits 3.07 Episode #3.7
50:43 – Once Upon A Time 1.07 The Heart is a Lonely Hunter
58:56 – Chuck 5.06 Chuck Versus the Curse
You can listen to the episode now by using the 'Play' button below or follow the break for detailed Show Notes.
Show Notes and Links
Quick Reviews
Sat 12/10
– Syfy Original Movie Snowmageddon
– Primeval 5.05 Episode #5.5 (US Airing)
Sun 12/11
– Lost Girl 2.12 Masks
– Misfits 3.07 Episode #3.7
– Once Upon A Time 1.07 The Heart is a Lonely Hunter
– Stephen King's Bag of Bones
Mon 12/12
– Terra Nova 1.10 Within
Wed 12/14
– American Horror Story 1.11 Birth
Fri 12/16
– Chuck 5.06 Chuck Versus the Curse
– Grimm 1.07 Let Your Hair Down
Listener Feedback and Voicemail
Game of Thrones – Season 2 Trailer
The Fades Premieres on BBC America January 14th
Misfits Gets a Series 4
Fox will decide Terra Nova renewal in 2012
More Doctor Who Christmas special preview clips
Doctor Who Christmas Special Coming To DVD In February
Interview with Doctor Who's Karen Gillan (Amy Pond)
Fringe's Anna Torv answers questions and sends Fringemas wishes
Netflix developing its own horror series
Interview with Game of Thrones' Peter Dinklage 
True Blood casting news
Vampire Diaries casting news
Stephen Hopkins To Direct NBC Drama Pilot Beautiful People
Big Changes Coming to Doctor Who next series
Steven Moffat reveals the new direction of Doctor Who's next series
Community Likely to be Renewed based on TV By The Numbers data
Lessons from Lost to Once Upon a Time: Do TV Writers Have Too Much Creative License?
Episode #172 hosted by Kevin Bachelder, Karen Lindsay and Brent Barrett. Recorded on 12/17/11. Edited by Brent Barrett.
Share your feedback by contacting us at 206-202-4182, or on Skype to TuningInToSciFiTV. Follow us on Twitter @TuningIntoSciFi or find us on Facebook.
Theme song graciously provided by Beatnik Turtle.
Promo for Confessions of a Fanboy podcast.
Podcast: Play in new window | Download
Subscribe: Google Podcasts | RSS