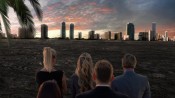 Our next Syfy Original Movie gives us a volcano disaster movie in, of all places, Miami. On January 28th we get Swamp Volcano (aka Miami Magma).
Here's the description…
Oil rig drillers in the Gulf of Mexico accidentally hit an underground lava flow, causing a massive volcano to form in Miami. Now a volcanologist and her sister attempt to blow the whistle on an illegal oil drilling scheme before it sets off the eruption that will destroy civilization.
Video trailer/preview below courtesy of Active Entertainment.
We'll be discussing this movie on an upcoming episode of our Saturday B Movie Reel podcast and we also did an interview with the film's director, Toshko Chapkanov, which you can find here.
We have a Fans of Syfy Original Movies Facebook group where you can get updates about these Syfy movies and other fun B movies too.