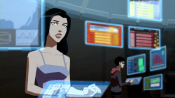 Water Cooler
– New contest to win Game of Thrones Season 1 on DVD
– New poll about season finales is up
– Tuner Minute: Watching it Wrong. Join in the forum discussion here.
Back Porch
00:50:25 – Being Human UK 4.02 Being Human 1955
01:01:45 – Young Justice 1.19 Misplaced
You can listen to the episode now by using the 'Play' button below or follow the break for detailed Show Notes.
Show Notes and Links
Quick Reviews
Sat 3/3
– Green Lantern 1.01 Beware My Power: Part One
– Young Justice 1.19 Misplaced
– Being Human UK  4.02 Being Human 1955
Sun 3/4
– Lost Girl  2.18 Fae-nted Love
– Once Upon A Time  1.14 Dreamy
– The Walking Dead  2.11 Judge, Jury Executioner
Mon 3/5
– Alcatraz  1.08 The Ames Brothers & 1.09 Sonny Burnett
– Being Human US  2.08 I've Got You Under Your Skin
Thu 3/8
– Awake  1.02 The Little Guy
– Community webisodes  Abed's Master Key
– The Big Bang Theory  5.19 The Weekend Vortex
Fri 3/9
– Grimm  1.14 Plumed Serpent
– Merlin  4.10 A Herald Of The New Age
Listener voicemail on the recent Tuner Minute
Fox cancels Terra Nova
Why you should care about Terra Nova's cancellation
Trailer for Community Spring Season 3
Julie Benz Cast As Lead in Rockne O'Bannon's 'Defiance'
Ben Browder to Guest Star On Doctor Who
Community panel at Paleyfest 2012
Once Upon a Time panel at PaleyFest 2012
Primeval: New World begins filming
Io9 genre roundup of spoilers and teasers
Interview with the Walking Dead's Laurie Holden (Andrea)
Teen Wolf – The Complete Season 1 DVD Out On May 22nd
American Horror Story Casting News
Networks explore shorter series lengths
Episode #184 hosted by Kevin Bachelder, Wendy Hembrock and Brent Barrett. Recorded on 3/11/12. Edited by Brent Barrett.
Share your feedback by contacting us at 206-202-4182, or on Skype to TuningInToSciFiTV. Follow us on Twitter @TuningIntoSciFi or find us on Facebook.
Theme song graciously provided by Beatnik Turtle.
Promo for The Ba Gua Etuis Box from Sci-Fi Radio Theater podcast.
Podcast: Play in new window | Download
Subscribe: Google Podcasts | RSS