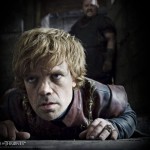 A Lannister may always pay his debts, but now it's time to review their progress in season 1. Wendy continues the Game of Thrones bonus series with special guests spanning the map of the Seven Kingdoms and all events in season 1. Read on for the details.


In show #4, Kimberly Thompson from the ScapeCast and Shannon Clarke join Wendy to discuss the power hungry family known as the Lannisters.  With brother and sister lovers Jaime and Cersei, their son and new king, Joffrey, their father, and perhaps the smartest of all characters in the story, their dwarf brother Tyrion, the Lannisters are certainly colorful.
Special notes for spoiler-phobes:
– the first few minutes discuss GoT in general but we warn you before we dive into the details of all of season 1.
– If you haven't read A Song of Fire and Ice book series by George R.R, Martin, you're safe here from book spoilers. We are only discussing the story as presented in the TV series. We will not be discussing the books.
– We discuss all the events in season 1, so if you have not seen episodes 1 through 10, you will get spoiled by our discussion here.
Podcast: Play in new window | Download
Subscribe: Google Podcasts | RSS