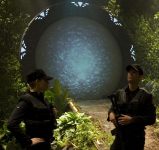 Wendy, Kevin, and Brent get in their last comments that didn't quite fit into the latest episode of Tuning in to SciFi TV. Warning: Spoilers abound and we may talk about anything and everything up through the last aired episode of the show being discussed.
Last Call:
00:35 – FlashForward
04:16 – Supernatural
08:00 – Smallville
10:08 – The Guild
10:35 – Sanctuary
Episode #56 Last Call hosted by Brent Barrett, Kevin Bachelder and Wendy Hembrock. Recorded on 11/15/09. Edited by Brent Barrett.
Theme song graciously provided by Beatnik Turtle.
You can listen to this bonus segment now by using the 'Play' button below.
Podcast: Play in new window | Download
Subscribe: Google Podcasts | RSS