Star Trek (1966)
Coming in at the top of our Genre Shows of All Time countdown, it's no wonder that the original Star Trek has earned a spot in the Genre Television Hall of Fame. The brainchild of Hall of Fame inductee Gene Roddenberry, this late 1960s series has been cited by many in genre television as a genuine inspiration. The format, character interactions, and elegant mix of drama and light-hearted elements formed the mold for dozens and dozens of genre shows that followed. The series ran for three seasons on NBC from 1966 to 1969. It has been followed by a number of spin-offs and two separate movie franchises.
Nichelle Nichols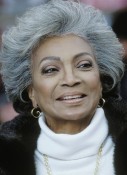 The multitalented actor, singer, songwriter, and producer Nichelle Nichols certainly entered the public's consciousness with her role as Uhura on Gene Roddenberry's Star Trek from 1966-1969. She went on to appear in numerous Star Trek spin-off and movie projects, as well as other genre projects such as The Supernaturals (1986), Good vs. Evil, Heroes, and voice work on Batman: The Animated Series, Gargoyles, Futurama, and Spider-man: The Animated Series. In addition to her genre television credentials, Nichelle Nichols is also well known for breaking down barriers in American television, such as with her part in the first interracial kiss in American television history. Nichelle has also recounted that she nearly quit Star Trek, but a call from civil rights leader Martin Luther King Jr. asking her to stay and continue to be a positive example for minorities changed her mind.
Leonard Nimoy
Leonard Nimoy became most famous for his role as Spock on Gene Roddenberry's Star Trek from 1966-1969. He, of course, also appeared in the spin-offs and both movie franchises. And in addition to his genre acting credentials on Star Trek, he has been featured in such genre works as Them!, Zombies of the Stratosphere, The Brain Eaters, Twilight Zone, The Outer Limits, The Man from U.N.C.L.E., Get Smart, Mission: Impossible, Night Gallery, Invasion of the Body Snatchers, The Lost World, Brave New World, Futurama, the Transformers films, The Big Bang Theory, and, of course, Fringe. But beyond his acting, Leonard Nimoy has contributed his writing, producing and directing talents to various projects include some of the Star Trek films and an episode of Rod Serling's Night Gallery.
Battlestar Galactica (1978)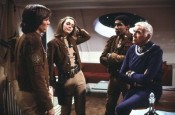 The original Battlestar Galactica, while perhaps not the greatest example of high brow adult genre television, certainly has earned a place in the hall of fame for other, more personal reasons to all of its fans. Not only did it inspire the critically acclaimed and fan favorite remake in 2004, but it also holds a fond spot in the hearts of many who were young and alive in 1978, this writer included. Many adults can remember sneaking into their family's living room after bed time to watch the premiere of this space opera, which hit American TV screens on the heels of the great success of the film Star Wars. Colonial Vipers and Cylon Raiders were all the talk of the playgrounds of young America, and many a current kid had at least a couple of the BSG action figures or model ships to play with. The terms "frak" and "by your command" entered into the popular culture as a result of this original program.