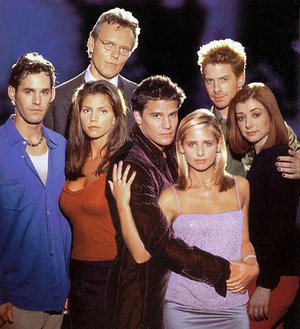 Buffy the Vampire Slayer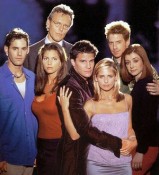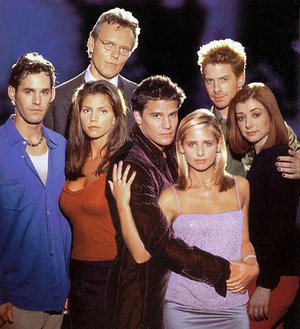 Joss Whedon's television adaptation of his own movie by the same name, Buffy hit US screens in 1997 with a short (for the time) season of twelve episodes.  It was followed by six more seasons, making it one of the longest running genre shows of its time, with most lucky to survive a single season.  The series spawned a spin-off in Angel (1999-204).  Several elements of the show itself have entered the popular culture, such as referring to a group of "in the know" everyday heroes working with a special leader as a "Scooby Gang" (itself a reference to the Scooby Doo cartoon series).  Numerous writers, producers and other cast and crew of this series have gone on to notable success in the genre TV world, including Joss Whedon (Firefly, Agents of SHIELD), David Greenwalt (Moonlight, Grimm), David Fury (Terra Nova, Fringe), and Jane Espenson (Tru Calling, Battlestar Galactica, Dollhouse, Torchwood, and Once Upon a Time).
The Babylon 5 Universe
Sold to the studios and the public as a five year series (1994-1998) with a definite beginning, middle and end, Babylon 5 managed to deliver.  Creator J. Michael Straczynski struggled with year-to-year cancellation threats and a network move for the final season of his operatic space epic.  The series spawned several additional television productions, such as the series Crusade and several movies, such as In the Beginning, The River of Souls, and Thirdspace.  Babylon 5's success with an overall story arc is arguably responsible for a wave of more complex and arc-driven storytelling in the genre television world.
Twilight Zone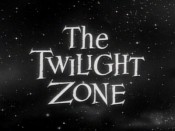 Originally aired from 1959 to 1964, the Twilight Zone anthology television series was the creation of writer Rod Serling, who had been one of the pioneers of early television.  During its original run (and subsequent revivals in 1985, 2002 and a planned 2015 entry in the collection), this ground breaking anthology series showcased and propelled the careers of many talented genre writers, actors, directors and other creative folks.  It is a staple of genre television viewing to this day, even regularly featured in marathons at the start of each new year on the U.S. Syfy channel.
Wonder Woman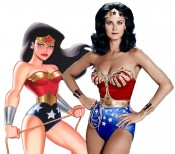 The DC Comics character of Wonder Woman (aka Diana Prince) first appeared on television in 1967's Wonder Woman: Who's Afraid of Diana Prince?  From that initial exposure, the character went on to feature in animated and live action programming, including the live-action Wonder Woman series on ABC from 1975 to 1979 and the animated Super Friends, which aired off and on Saturday mornings starting in 1973.  While attempts have been made to return the character to television, the only successful return has been in animated form (such as 2001's Justice League and 2010's Young Justice).