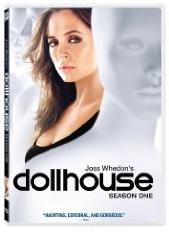 This contest is now closed.
Hey Tuners,
Speak into our microphone and tell us what you loved about season 1 of Dollhouse or why you think you'll love it and get a chance to win one Dollhouse Season 1 Region 1 DVD set!
Your entry must be an audio recording to be eligible for the drawing. Email or other text answers are not valid and will not be considered.
The contest begins today. Submissions must be received by August 15 at 11:59 PST.
Read on for the details…

Dollhouse Season 1 DVD Contest Rules
Submitting your audio message permits your name to be entered in a random drawing to select one winner of a Dollhouse Season 1 DVD set.
Eligible Entry:
1. In less than 60 seconds, answer one of these questions:
State what you loved about Dollhouse season 1.
Or, if you haven't seen Dollhouse yet,
State why you think you will love Dollhouse season 1.

2. After your answer, state clearly your Full Name, Your Town, and your Email Address to contact you if you win.  Please note that we will not broadcast or otherwise share your e-mail address with anyone for any reason.  Also, any entry not containing these three bits of information will not be considered in the drawing.

Submit your entry: You can tell us your answer in any one of these ways:
– Phone call our voicemail line at 206-202-4182 and leave your message.
– Use Skype to call tuningintoscifitv and leave a message on our voicemail.
– Record an audio file and send it to us at feedback@tuningintoscifitv.com with the subject 'Dollhouse DVD contest'.
The winning entry will be drawn at random from all audio submissions.
One entry per person. (We'll recognize your voice!) Listeners outside North America can enter, but the DVD set will only be shipped for free to addresses in the US or Canada.
The winner will be announced on Tuning in to SciFi TV Episode #43 and notified by email.
More Fine Print: The selection is based on a random drawing from all valid entries. The actual answer provided is not considered when drawing the winner. The audio answer may be used by Tuning in to SciFi TV in future episodes or promotions. No one affiliated with Tuning in to SciFi TV is eligible to play or win.