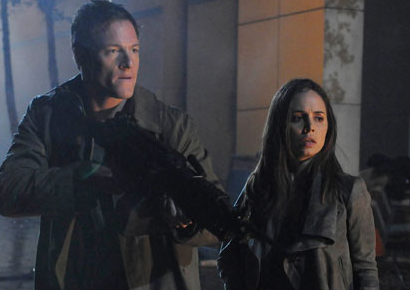 Poll on top show runners, New contest to win BSG:The Plan.
Watercooler topics
Quick Reviews: Legend of the Seeker (1/23 2.09 Dark), Being Human (1/24 Episode 2.03), Chuck (1/25 3.05 Chuck vs First Class), Heroes (1/25 4.17 The Art of Deception), Fringe (1/28 2.14 The Bishop Revival), Vampire Diaries (1/28 1.12 UnPleasantville), Supernatural (1/28 5.12 Swap Meat), Ghost Whisperer (1/29 5.13 Living Nightmare), Smallville (1/29 9.10 Disciple), Medium (1/29 6.13 Psycho), Dollhouse (1/29 2.13 Epitaph Two), Caprica (1/29 1.02 Rebirth)
Listener email, Lost Season 6 and Complete Series DVD Release date 8/24, Merlin Season 2 US Air Date and Season 1 DVD Release Plans, Journeyman's Kevin Falls brings Powers to FX, The CW will reboot La Femme Nikita, NBC picks up
a superhero show, Smallville casting news, Esai Morales talks about Caprica, Name the SyFy Movie Contest, Listener email about Stargate Universe.
Tuner Minute: Off the Top of Your Head. Join in the forum discussion here.
Back Porch:
26:30 – Dollhouse 1/29 (2.13 Epitaph Two)
40:50 – Legend of the Seeker 1/23 (2.09 Dark)
51:42 – Chuck 1/25 (3.05 Chuck vs First Class)
Episode #67 hosted by Wendy Hembrock, Brent Barrett and Kevin Bachelder. Recorded on 01/31/10. Edited by Brent Barrett.
Theme song graciously provided by Beatnik Turtle.
Promo for The Scapecast – a Farscape podcast.
You can listen to the episode now by using the 'Play' button below.
Podcast: Play in new window | Download
Subscribe: Apple Podcasts | Android | Google Podcasts | RSS