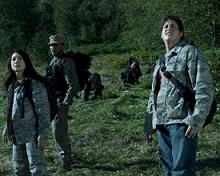 WaterCooler
– New Poll: What upcoming finale are you most looking forward to?
– Quick Reviews
– Listener feedback and News
– Tuner Minute: When Old Was New. Join in the forum discussion here.
Back Porch:
39:47 – Stargate Universe 2.17 Common Descent
47:31 – Fringe 3.20 6:02 AM EST
54:50 – Chuck 4.21 Chuck Versus the Wedding Planner
You can listen to the episode now by using the 'Play' button below or follow the break for detailed Show Notes.

Show Notes and Links
Quick Reviews
– 4/15 Camelot 1.04 Lady of the Lake
– 4/17 Game of Thrones 1.01 Winter Is Coming
– 4/18 Chuck 4.21 Chuck Versus the Wedding Planner
– 4/18 Stargate Universe 2.17 Common Descent
– 4/19 SOLO: The Series 1.05 Mole!
– 4/21 The Vampire Diaries 2.19 Klaus
– 4/22 Bar Karma 1.11 Enter the Community
– 4/22 Fringe 3.20 6:02 AM EST
– 4/22 Sanctuary 3.12 Hangover
– 4/22 Smallville 10.18 Booster
– 4/22 Supernatural 6.18 Frontierland
Elisabeth Sladen (aka Sarah Jane Smith) Has Passed Away
Game of Thrones Already Renewed
Farscape Creator Working On New Show
Fringe Prop Giveaways
5-Minute Sneak Peek for FALLING SKIES
The Guild Season 5 Read Through
BBC America Acquires Battlestar Galactica reruns
Syfy Kicks "Terminator: The Sarah Connor Chronicles" Reruns to the Curb
Sanctuary moving to Mondays as of April 25th
Heroes Star Masi Oka Working On A Pilot For Syfy
JMS' Captain Power Returns?
Mark Sheppard video interview by listener Christopher from Jonja.net
Mo Ryan: Jensen Ackles and Jared Padalecki Talk 'Supernatural,' Souls and Scary Challenges
Warehouse 13 Season 2 DVD Due Out June 28th
Eureka Season 4.0 DVD Due Out July 5th
The Cape Coming To DVD July 5th
Nerdist Doctor Who NYC Panel Podcast
Nerdist Doctor Who Videos Collection
Leonard Nimoy Talks Fringe and William Bell
Episode #135 hosted by Brent Barrett and Kevin Bachelder. Recorded on 4/23/11. Edited by Brent Barrett.
Share your feedback by contacting us at 206-202-4182, or on Skype to TuningInToSciFiTV. Follow us on Twitter @TuningIntoSciFi or find us on Facebook.
Theme song graciously provided by Beatnik Turtle.
Promo for Nutty Bites podcast.
Podcast: Play in new window | Download
Subscribe: Google Podcasts | RSS