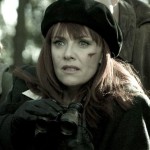 WaterCooler
– Poll: What was the best standout performance by an actor this season?
– Quick Reviews
– Listener feedback and News
– Tuner Minute: Back to the Roots. Join in the forum discussion here.
Back Porch:
38:58 – Doctor Who 6.05 The Rebel Flesh
47:38 – Game of Thrones 1.06 A Golden Crown
56:44 – Sanctuary 3.17 Normandy
You can listen to the episode now by using the 'Play' button below or follow the break for detailed Show Notes.

Show Notes and Links
Quick Reviews
– 5/21 Doctor Who 6.05 The Rebel Flesh
– 5/21 Syfy Original Movie Sinbad and the Minotaur
– 5/22 Game of Thrones 1.06 A Golden Crown
– 5/23 Sanctuary 3.17 Normandy
– 5/24 Primeval 5.01 Episode #5.1
Britt Robertson: Why Secret Circle Will Cast a Spell on Viewers
Extended preview of The Secret Circle
First Look at Captain Jack and Torchwood Miracle Day
True Blood posters
Another True Blood Trailer
HBO GO Users Get Sneak Peek At The First Several Minutes Of True Blood Season 4
More details on FX "American Horror Story"
The Nerdist podcast gets a TV Show on BBC America
MTV Gets Hairy with Teen Wolf Remake
Season 6 – Similarities between Supernatural and Buffy
Supernatural Spoiler: Season 7 Theme Revealed
Misfits Actress Wins Bafta Award
Why We Didn't See Tom Welling in the Superman Suit
Fans Ask Anna Torv
Fans Ask John Noble
Episode #140 hosted by Brent Barrett, Wendy Hembrock and Kevin Bachelder. Recorded on 5/28/11. Edited by Brent Barrett.
Share your feedback by contacting us at 206-202-4182, or on Skype to TuningInToSciFiTV. Follow us on Twitter @TuningIntoSciFi or find us on Facebook.
Theme song graciously provided by Beatnik Turtle.
Promo for Podculture.
Podcast: Play in new window | Download
Subscribe: Apple Podcasts | Android | Google Podcasts | RSS