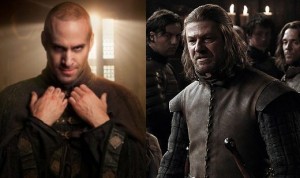 Presuming you're not someone who enjoys both equally, the question has come up on our show and on our forum: Which do you prefer… Camelot or Game of Thrones?
I'm squarely in the Camelot camp.  Game of Thrones, while visually stunning and brilliantly acted, just doesn't click for me.  Of course, that raises the question of why.
I guess it helps to explain what I do and do not like in my fiction.  First and foremost, I really enjoy escapist fiction.  I want my fiction to take me somewhere I've never been and portray something I am not familiar with.  I don't tend to prefer fiction that seems… real to me.  Even if it is set in a fantasy world.
With that in mind, I find Camelot to be a true escapist story.  It is a fantasy (complete with magic), action adventure with a touch of political power playing.  Game of Thrones, however, I find too non-escapist.  Sure, the setting is very fantasy, and it definitely visually takes me somewhere I've never been before.  But too much time in Game of Thrones is spent power playing, back stabbing, and otherwise doing things that are too real to history.  I get enough politics when I watch the news in the evening.  And to top it off, I don't like most of the characters.  (And not the "love to hate" kind of don't like… the "I don't give a hoot what happens to them" kind of don't like.)
Sure, Game of Thrones is a fine story.  It's just not my kind of story.  I want swordplay, action, magic, sex, and above all somewhere for my mind to wander in a world that is not my own.  Camelot fills that bill for me.  It makes me happy.  Game of Thrones just depresses me too much to make the good bits worth watching.
So what do you think?  Let us know in the forum.