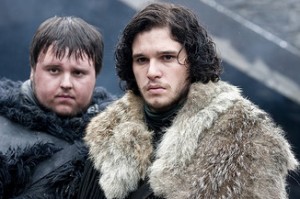 It's a blazing hot summer, so let's head North and talk about all things dark and frozen near The Wall. Wendy continues the Game of Thrones bonus series with special guests spanning the map of the Seven Kingdoms and all events in season 1. Read on for the details.


In show #2, Kimberly Thompson from the ScapeCast, and Christine Peruski from Michigan, join Wendy to discuss dutiful son Jon Snow, as he makes his journey from illegitimate castoff to brother-in-arms in the Night's Watch.
Special notes for spoiler-phobes:
– the first few minutes discuss GoT in general but we warn you before we dive into the details of all of season 1.
– If you haven't read A Song of Fire and Ice book series by George R.R, Martin, you're safe here from book spoilers. We are only discussing the story as presented in the TV series. We will not be discussing the books.
– We discuss all the events in season 1, so if you have not seen episodes 1 through 10, you will get spoiled by our discussion here.
Podcast: Play in new window | Download
Subscribe: Google Podcasts | RSS