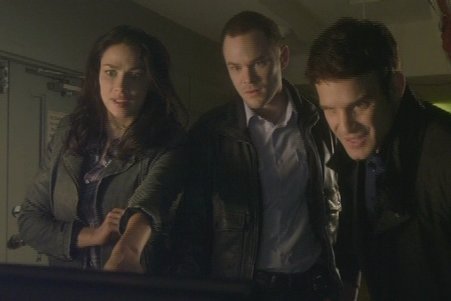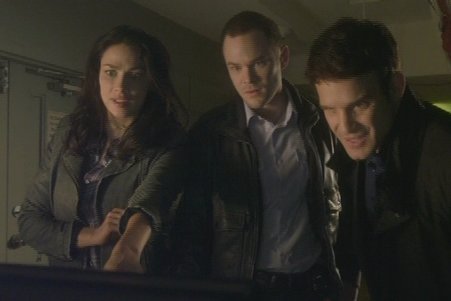 WaterCooler
– New Poll: Which of these superpowered shows do/did you enjoy the most?
– Contest: Win one of three copies of Dinocroc vs Supergator courtesy of Anchor Bay Entertainment. You can click here for details.
– Quick Reviews
– Listener feedback and News
– Tuner Minute: Waiting on a Dream Panel. Join in the forum discussion here.
Back Porch:
0:44:04 – Warehouse 13 3.01 The New Guy
0:50:57 – Falling Skies 1.05 Silent Kill
1:00:38 – Haven 2.01 A Tale of Two Audreys
You can listen to the episode now by using the 'Play' button below or follow the break for detailed Show Notes.
Show Notes and Links
Quick Reviews
– Babylon 5 3.13 A Late Delivery from Avalon
– Babylon 5 3.14 Ship of Tears
– 7/10 True Blood 4.03 If You Love Me, Why am I Dyin'?
– 7/10 Falling Skies 1.05 Silent Kill
– 7/11 Alphas 1.01 Pilot
– 7/11 Eureka 4.11 Liftoff
– 7/11 Warehouse 13 3.01 The New Guy
– 7/11 Teen Wolf 1.07 Night School
– 7/12 The Nine Lives of Chloe King 1.05 Girls Night Out
– 7/14 Futurama 6.18 The Silence of the Clamps
– 7/14 Ugly Americans 2.03 Ride Me to Hell
– 7/15 Haven 2.01 A Tale of Two Audreys
– 7/15 Torchwood 4.02 Miracle Day: Rendition
MTV's Teen Wolf Scares Up Second Season
Season Five of Felicia Day's The Guild Debuts July 26
BBC Worldwide to Offer TV Episodes, beginning with Dr Who, for Rent Through Facebook
Terra Nova to Air Only 13 Episodes in 2011-12 Season
Syfy Has Biggest Monday in a Decade
Ratings: Was Torchwood's Return Miraculous?
Torchwood: Miracle Day DVD Not Out Until 2012
Death Valley: Watch the gruesome, funny, NSFW trailer for MTV's new series
Syfy picks up Merlin season 4
Vampire Diaries Exec Producer's fangirl moments
Kevin Williamson's ready for SDCC
Nina Dobrev pre-Comic Con interview
Lost Girl prequel comic book for SDCC
Eddie McCormick's SDCC memories
Josh Jackson discusses Emmys and Peter Bishop
Cool Short new Fringe TeaserSupernatural Casting News
Video Interview with Emily Rose of Haven
The Sci-Fi Fanatic BIG 50+: Greatest TV Influences
Episode #147 hosted by Brent Barrett, Wendy Hembrock and Kevin Bachelder. Recorded on 7/16/11. Edited by Brent Barrett.
Share your feedback by contacting us at 206-202-4182, or on Skype to TuningInToSciFiTV. Follow us on Twitter @TuningIntoSciFi or find us on Facebook.
Theme song graciously provided by Beatnik Turtle.
Promo for The Type 40 Podcast.
Podcast: Play in new window | Download
Subscribe: Google Podcasts | RSS