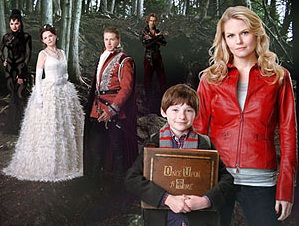 Water Cooler:
– Poll Results: When do you watch most of your genre shows?
– New contest: Win The Walking Dead Season One on DVD or Blu-Ray
– News
– Tuner Minute: Why Watch Now?  Join in the forum discussion here.
Back Porch:
0:39:20 Once Upon A Time 1.01 Pilot
0:50:49 Vampire Diaries 3.07 Ghost World
0:59:00 Supernatural 7.06 Slash Fiction
You can listen to the episode now by using the 'Play' button below or follow the break for detailed Show Notes.
Show Notes and Links
Quick Reviews
Sat 10/22
– Bedlam 1.05 Committed
Sun 10/23
– Once Upon A Time 1.01 Pilot
– The Walking Dead 2.02 Bloodletting
Mon 10/24
– Death Valley 1.08 Undead Hookers
– Tue 10/25
– Dragon Age: Redemption 1.03 Josmael
Wed 10/26
– American Horror Story 1.04 Halloween: Part 1
– The Fades 1.06 Episode #1.6
Thu 10/27
– The Big Bang Theory 5.07 The Good Guy Fluctuation
– The Secret Circle 1.07 Masked
– The Vampire Diaries 3.07 Ghost World
Fri 10/28
– Chuck 5.01 Chuck vs. the Zoom
– Grimm 1.01 Pilot (rated last episode)
– Sanctuary 4.04 Monsoon
– Supernatural 7.06 Slash Fiction
AMC renews The Walking Dead for Season 3
Videos behind the scenes for The Walking Dead
True Blood season 5 casting and Spoilers
New Alcatraz TV Spot 
Awake Show runner discusses Production Shutdown
Prophets of Science Fiction series begins on Nov 9th on Science channel
Syfy Films Acquires First Project With Wild Cards
Interview with Lori from The Walking Dead (Sarah Wayne Callies)
Interview with Darryl from Walking Dead (Norman Reedus)
Tough love for Supernatural season 7 and support for Supernatural Season 7
Sarah Jane actor's memoir to be published posthumously
The CW makes Hulu streaming agreement
Episode #165 hosted by Brent Barrett, Kevin Bachelder and Wendy Hembrock. Recorded on 10/29/11. Edited by Brent Barrett.
Share your feedback by contacting us at 206-202-4182, or on Skype to TuningInToSciFiTV. Follow us on Twitter @TuningIntoSciFi or find us on Facebook.
Theme song graciously provided by Beatnik Turtle.
Promo for The Quillians podcast.
Podcast: Play in new window | Download
Subscribe: Google Podcasts | RSS