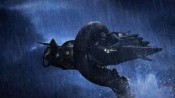 This time around we've got a retelling of a classic story for you as Kevin and Gary from The Babylon podcast, the Critical Myth podcast and the Parsec Awards discuss the recently aired Jules Verne's The Mysterious Island.
You can listen to the episode now by using the 'Play' button below or follow the break for more detailed show notes.

You might also enjoy our Fans of Syfy Original Movies Facebook group where you can talk with your fellow Syfy and B movie fans.
For additional information about this movie:
IMDB.com Page
Syfy Original Movie Page
Official website
Feel free to post your ratings as a comment below or join in on the discussion on our forum.
Podcast: Play in new window | Download
Subscribe: Google Podcasts | RSS