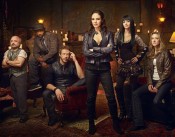 Water Cooler
– Tuner Minute: Bound to Be Good. Join in the forum discussion here.
– Take our poll on the future of genre TV
Back Porch
00:44:10 – Lost Girl 2.22 Flesh and Blood
00:53:30 – Fringe 4.17 Everything in Its Right Place
1:03:00 – Community 3.14 Pillows and Blankets
You can listen to the episode now by using the 'Play' button below or follow the break for detailed Show Notes.
Show Notes and Links
Quick Reviews
Sat 3/31
– Green Lantern 1.05 Heir Apparent
– Young Justice 1.23 Insecurity
– Syfy Original Movie Seattle Superstorm
– Being Human UK 4.06 Puppy Love
Sun 4/1
– Ultimate Spider-man 1.01 Great Power
– Ultimate Spider-man 1.02 Great Responsibility
– Avengers 2.01 The Private War of Dr. Doom
– Game of Thrones 2.01 The North Remembers
– Lost Girl 2.22 Flesh and Blood
– Once Upon A Time 1.18 The Stable Boy
Mon 4/2
– Being Human US 2.12 Partial Eclipse of the Heart
Wed 4/4
– Ugly Americans 2.16 Mark Loves Dick
Thu 4/5
– Community 3.14 Pillows and Blankets
– The Big Bang Theory 5.21 The Hawking Excitation
– Touch 1.04 Kite Strings
– Awake 1.06 Not My Penguin
Fri 4/6
– Grimm 1.16 The Thing With Feathers
– Fringe 4.17 Everything in Its Right Place
Listener voicemails on recent DVR Hoarding Tuner Minute
True Blood Season 5 Trailer – Spoilery!
True Blood returns June 10
Falling Skies season 2 preview
Once Upon a Time casting news
Continuum – new Canadian Series coming in May
Vampire Diaries casting news
Supernatural show runner stepping down
BBC Three cancels The Fades
Mark Sheppard Interviewed By BBCA
Game of Thrones returns with record ratings
Game of Thrones wins a Peabody award
How Game of Thrones and HBO make money despite low ratings
Fans Think Social TV Activity Keeps Shows Alive
Episode #188 hosted by Wendy Hembrock, Brent Barrett and Kevin Bachelder. Recorded on 4/07/12. Edited by Brent Barrett.
Share your feedback by contacting us at 206-202-4182, or on Skype to TuningInToSciFiTV. Follow us on Twitter @TuningIntoSciFi or find us on Facebook.
Theme song graciously provided by Beatnik Turtle.
Promo for Completely Comics.
Podcast: Play in new window | Download
Subscribe: Google Podcasts | RSS