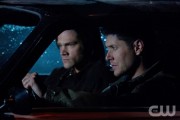 Wendy caught up with TV critic Maureen Ryan from The Huffington Post and TV Guide Online's Tina Charles to discuss Supernatural season 7 and the future for our favorite monster hunting brothers.
We cover everything through Episode 7.23 "Survival of the Fittest". We don't hold back on what we loved and what didn't work for us when considering where the show is carrying our wayward sons.
You can listen to the episode now by using the 'Play' button below.

To learn more from our guests:
Maureen Ryan's blog
– Maureen Ryan's blog on The Huffington Post
Talking TV with Ryan and Ryan
– Mo Ryan's podcast about TV with Ryan McGee
TV Goodness
– Tina Charles's blog about TV
Supernatural recaps on TV Guide.com
– Tina Charles' Supernatural episode recaps
Episode #4 hosted by Wendy Hembrock. Recorded on 6/21/12. Edited by Brent Barrett.
Share your feedback by contacting us at 206-202-4182, on Skype to TuningInToSciFiTV or on Twitter @TuningInToSciFi.  Or check us out on Facebook.
Theme song graciously provided by Beatnik Turtle.
Podcast: Play in new window | Download
Subscribe: Apple Podcasts | Android | Google Podcasts | RSS