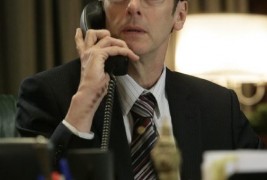 The actor to play the next Doctor has been announced!  It's fifty five year old writer, director and actor Peter Capaldi.
Peter has appeared in Doctor Who before, during David Tennant's run as the Doctor.  He played the head of the household the Doctor saved in the episode The Fires of Pompeii in 2008.
He also appeared in several episodes of the Doctor Who spin-off series Torchwood: Children of Earth as government minister John Frobisher.
Peter has most recently been seen in the zombie movie World War Z.
Let's all welcome Peter Capaldi to the role of The Doctor.