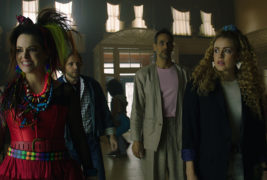 Send Us Feedback
Leave us a SpeakPipe audio message
Voicemail: 706-927-8478
Twitter
Facebook
Email

Listen to the episode now using the 'Play' button below. Follow the break for the detailed Show Notes.
Water Cooler
Create a TIST Show Introduction
Tuner Minute: Flawed But Worthy
Join in the forum discussion here.
Back Porch
0:35:06 12 Monkeys season 3
0:48:24 Lucifer 2.18 The Good, the Bad, and the Crispy (season finale)
0:56:45 iZombie 3.09 Twenty-Sided, Die
1:06:31 Class 1.07 and 1.08 (season finale)
Show Notes and Links
Quick Reviews
Sat 5/27
– Doctor Who 10.07 The Pyramid at the End of the World
– Class 1.07 The Metaphysical Engine, or What Quill Did
Sun 5/28
– American Gods 1.05 Lemon Scented You
Mon 5/29
– Gotham 3.20 Heroes Rise: Pretty Hate Machine
– Lucifer 2.18 The Good, the Bad, and the Crispy (season finale)
Tue 5/30
– iZombie 3.09 Twenty-Sided, Die
Feedback, News and Links
Voicemail from Kurt A. re: wormholes
Voicemail from Pamela from western NY re: Sense8 season 2
Voicemail from Scott on Cape Cod re: this VCR tape conversion journey
Sense8 Cancelled
Trailer for Preacher Season 2
Trailer 2 for Dark Matter Season 3
Casting News
– Supergirl's Season 3 Villain
Spoiler Free Wynonna Earp season 2 Impressions
Spoiler Free Dark Matter season 3 Impressions
Episode #430 hosted Kevin Bachelder, Wendy Hembrock and Brent Barrett.  Recorded on 6/5/17. Edited by Brent Barrett.
Share your feedback by contacting us at 706-927-8478, or on Skype to TuningInToSciFiTV. Follow us on Twitter @TuningIntoSciFi or find us on Facebook.
Theme song graciously provided by Beatnik Turtle.
Promo for Quarter-Bin podcast.
Podcast: Play in new window | Download
Subscribe: Google Podcasts | RSS