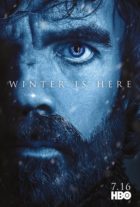 The white ravens have flown from the Citadel and Winter is here!  Wendy and the Small Council take up all the matters on the season 6 DVD Blu-ray features and their hopes for season 7.
Contact the Small Council – Leave a Speakpipe audio message.
Listen to the episode using the 'Play' button below. Follow the break for links, images and other details.
News and Links
HBO Inside the Score With Composer Ramin Djawadi
Game of Thrones Spin offs Moving Ahead
HBO Trailer #2
Season 6 Histories and Lore
Discussion
– Season 6 Blu-Ray Extras – History and Lore, Mini-doc on Battle of the Bastards, Commentaries and more
– Expectations and Predictions for Season 7
Thank you for listening. Contact the Small Council!
<a href="http://www.speakpipe.com/tuningintoscifitv" target="_blank" rel="noopener noreferrer">Leave an audio message or call us at 706-927-8478.
Wendy @WendyHembrock
Shannon @TNRLM
Jesse @JesseJacksonDFW
Christine @C_Peruski
Hosted by Wendy Hembrock. Recorded on 6/27/2017. Edited by Brent Barrett.
Music by Break of Reality used with permission.
Podcast: Play in new window | Download
Subscribe: Android | Google Podcasts | RSS