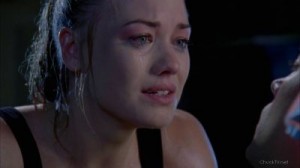 WaterCooler
– Last chance to enter the contest to win Buffy the Vampire Slayer the Complete Series on DVD
– Send your list of Top Genre TV Shows
– Quick Reviews
– Listener feedback and News
– Tuner Minute: Bits on a Silver Platter Join in the forum discussion here.
Back Porch:
43:40 – Chuck 4.08 Chuck vs. Phase Three
49:30 – The Walking Dead 1.04 Vatos
56:42 – Lost Girl 1.10 The Mourning After
You can listen to the episode now by using the 'Play' button below.
Follow the break for detailed Show Notes.
Show Notes and Links
– 11/21 Futurama 6.13 The Futurama Holiday Spectacular
– 1/21 Lost Girl 1.10 The Mourning After
– 1/21 The Walking Dead 1.04 Vatos
– 11/22 Chuck 4.08 Chuck vs. Phase Three
– 11/23 Riese 1.09 Retribution / 1.10 Reunion
– 11/23 No Ordinary Family 1.08 No Ordinary Accident
– 11/23 Stargate Universe 2.09 Visitation
– 11/26 Young Justice 1.01 Pilot
– 11/26 Sanctuary 3.07 Breach
SyFy Being Human premieres on 1/17
Fox Entertainment President comments on Fringe moving to Fridays
Fringe main 3 cast interview
Fringe preview for next new episode
The Guild Season 4 DVD Release Date
Utah gets a visit from Doctor Who
BBC America airing Doctor Who marathon and Doctor Who Proms before the Christmas Special
Linda Hamilton interview about playing Chuck's mom
SyFy Saturday movies in early 2011
Fans drive the creative decisions for Bar Karma
Another angle for web content
TV watching survey
Episode #112 hosted by Kevin Bachelder, Wendy Hembrock and Brent Barrett. Recorded on 11/27/10. Edited by Brent Barrett.
Share your feedback by contacting us at 206-202-4182, or on Skype to TuningInToSciFiTV. Follow us on Twitter @TuningIntoSciFi.
Theme song graciously provided by Beatnik Turtle.
Promo for the SciFi Diner podcast.
Podcast: Play in new window | Download
Subscribe: Google Podcasts | RSS