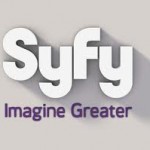 We have two titles airing on Syfy in February. Details from the official SyFy press release are below.
I also plan to cover a DVD title each month and will include that title in these monthly blog posts to give you some advance notice in case you'd like to check it out before we release the podcast. Brent will be joining me to discuss one of the all time classics – Alien Apocalypse with Bruce Campbell. It's available on DVD from Netflix and via Netflix streaming as well. You can also find the DVD at Amazon at this link.
Iron Invader (February 12th)
In Iron Invader, premiering Saturday, February 12, at 9PM (ET/PT), a meteorite crawling with space bacteria crash lands in a junkyard. The unusual combination of alien bugs and Earth garbage brings a huge metalwork to life. The ungrateful Iron Invader then goes on a killing spree. The movie stars Kavan Smith (Eureka, Red: Werewolf Hunter). Nicole de Boer (Dead Zone, Stargate: Atlantis) and Donnelly Rhodes (Battlestar Galactica, Tron: Legacy). Iron Invader is a production of Cinetel.
Area 51 (February 26th)
Directed by Jason Connery — Sean Connery's son – Area 51 premieres Saturday, February 26, at 9PM (ET/PT). In the movie, the Air Force decides to allow a few reporters into the most secretive base on the planet, Area 51, but the visit turns into violent mayhem when one of the captive aliens leads an escape. Area 51 stars Bruce Boxleitner (Tron: Legacy, Babylon 5), John Shea (Lois & Clark: The Adventures of Superman, Mutant X) and Jason London (Dazed and Confused, MonsterWolf). A production of After Dark Films.