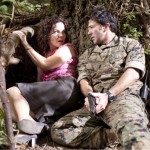 Next up on the Syfy Original Movie schedule is Ferocious Planet on April 9th.
Here's the official description…
An experimental device designed to view alternate universes malfunctions on its first demonstration, transporting a group of observers into a nightmarish new dimension. The team must use ingenuity and courage to outwit the bloodthirsty creatures of this bizarre world, while trying to repair the damaged machine and return home. Ferocious Planet stars John Rhys-Davies and Joe Flanigan.
The DVD for this is due out on June 7th. You can find it here.
Here's the preview…