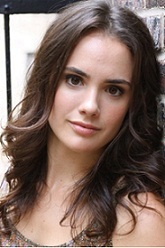 Early next week we are scheduled to interview the lovely and talented Cassie Howarth who plays Dayna on Bar Karma which airs on Current TV.
If you have any questions you'd like to have us ask Cassie please let us know. We can't guarantee we'll be able to ask them all but suggestions are greatly appreciated. You can post a comment below, you can call one of our voicemails: 206-202-4182 or on Skype to TuningInToSciFiTV, you can send them to us via Twitter @TuningIntoSciFi, find us on Facebook or simply send them to us via email.
You can checkout the two You Tube videos below to learn a little more about Cassie's character and about the show in general. You can also watch the premiere episode of the series at the bottom of this post.