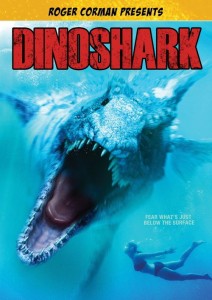 Since you can't discuss too many shark movies during the summer today we've got Dinoshark for you. Joining Kevin is Shannon Ridler who's known as the Movie Moxie. She's also the co-host of the Hexed: Sisterhood of the Supernatural podcast.
You can listen to the episode now by using the 'Play' button below or follow the break for more detailed show notes.

Items mentioned in this episode:
Be sure to checkout our Dinocroc vs Supergator contest where you could win yourself a copy of this classic courtesy of Anchor Bay Entertainment. Full details are available here.
You can learn more about our upcoming Vintage series of Saturday B Movie Reel podcasts by checking out this blog post and forum thread.
You can support our podcast by purchasing Dinoshark here.
For additional information about this movie:
IMDB.com Page
Syfy Original Movie Page
Ratings:
Feel free to post your ratings as a comment below or join in on the discussion on our forum.
Podcast: Play in new window | Download
Subscribe: Google Podcasts | RSS