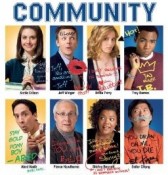 We've said many times on Tuning in to SciFi TV how we love NBC's comedy Community. So we're dedicating time to discuss Community in our new podcast – "The Study Group". Join us as we start from the beginning with season 1, auditing what those unique students at Greendale Community College get up to each episode.
It's not too late for you to enroll! Break out your Community: The Complete First Season on DVD from Amazon or add the series to your Netflix DVD queue, watch on Hulu, download on iTunes – there's many ways to discover or re-discover this show.
Video trailer/preview below…
The Study Group kicks off on Friday, February 3 discussing the Pilot episode. No mid-terms or homework, just plenty of fun. Join our Study Group and become part of the community!