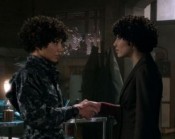 Water Cooler
New contest – 2 winners can select any single season of Chuck on DVD
– Answer the poll: What job on a genre show would you like?
– Our new Community podcast – The Study Group has launched
– Tuner Minute: Blinded by Rage. Join in the forum discussion here.
Back Porch
0:43:05 – Fringe 4.11 Making Angels
0:56:46 – The Fades Episode 1.03
1:05:25 – Once Upon A Time 1.11 Fruit of the Poisonous Tree
You can listen to the episode now by using the 'Play' button below or follow the break for detailed Show Notes.
Show Notes and Links
Quick Reviews
Sat 1/28
– The Fades Episode 1.03
– Syfy Original Movie Swamp Volcano
Sun 1/29
– Once Upon A Time 1.11 Fruit of the Poisonous Tree
– Lost Girl 2.15 Table for Fae
Mon 1/30
– Alcatraz 1.04 Cal Sweeney
– Being Human US 2.03 All Out of Blood
Thu 2/2
– The Big Bang Theory 5.15 The Friendship Contraction
– The Vampire Diaries 3.13 Bringing Out the Dead
Fri 2/3
– Fringe 4.11 Making Angels
– Grimm 1.10 Organ Grinder
– Supernatural 7.13 The Slice Girls
– Merlin 4.05 His Father's Son
Listener feedback and voicemail
True Blood Season 5 Teaser Trailer
Game of Thrones Season 2 Trailer
Being Human Series Four Interview
Chuck: The Fifth And Final Season Blu Ray May 8th
NBC orders Revolution from JJ Abrams and Eric Kripke
ABC Orders 2 Genre-ish Show Pilots
CW casts its Green Arrow
CW orders Abrams' pilot for The Selection
Fringe fans miss Peter's Peacoat
Fringe Fans Ask Questions to the Crew
Fringe crew discusses the Astrid-centric episode
Fringe bumped off the scheduled 3 Fridays in March
NBC's Awake coming to Thursdays in March
Early Review of The River
Episode #179 hosted by Wendy Hembrock, Brent Barrett and Kevin Bachelder. Recorded on 2/4/12. Edited by Brent Barrett.
Share your feedback by contacting us at 206-202-4182, or on Skype to TuningInToSciFiTV. Follow us on Twitter @TuningIntoSciFi or find us on Facebook.
Theme song graciously provided by Beatnik Turtle.
Promo for The Weird Show podcast.
Podcast: Play in new window | Download
Subscribe: Google Podcasts | RSS