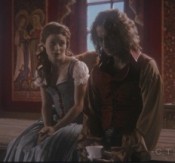 Water Cooler
– Enter our Contest to Win a Season of Chuck on DVD
– Tuner Minute: I'm With Them. Join in the forum discussion here.
Back Porch
40:15 – The Fades Episode 1.05
49:26 – Fringe 4.13 A Better Human Being
59:58 – Once Upon a Time 1.12 Skin Deep
You can listen to the episode now by using the 'Play' button below or follow the break for detailed Show Notes.
Show Notes and Links
Quick Reviews
Sat 2/11
– The Fades Episode 1.05
– Syfy Original Movie Jules Verne's The Mysterious Island
Sun 2/12
– Lost Girl 2.16 School's Out
– Once Upon A Time 1.12 Skin Deep
– The Walking Dead 2.08 Nebraska
Mon 2/13
– Alcatraz 1.06 Paxton Petty
– Being Human US 2.05 Addicted to Love
Tues 2/14
– The River 1.03 Los Ciegos
Thu 2/16
– The Big Bang Theory 5.17 The Rothman Disintegration
– The Vampire Diaries 3.15 All My Children
Fri 2/17
– Fringe 4.13 A Better Human Being
– Supernatural 7.15 Repo Man
– Merlin 4.07 The Secret Sharer
Listener voicemail
Lost Girl Season 2 Will Air Very Soon On Syfy In US
Syfy's Spring Highlights – Eureka finale season premieres 4/16, Treasure Island in May
Syfy Developing Spec Drama 'Bob from Corporate'
The Walking Dead Mid-Season 2 Premiere Draws Record Viewers
Community panel and episode sneak peak at Paleyfest  
Community Ratings Good By Comparison
Interview with Alcatraz's Sarah Jones (Rebecca)
Game of Thrones on location in Iceland
CW moves Supernatural back to Thursdays for 2 weeks
Vampire Diaries Returns on March 15th
True Blood casting news
NBC's Awake pilot released 2 weeks early
CW casts its Beauty
Karen Gillan Discusses Amy's Exit From Doctor Who
A Community Death
Once Upon a Time actor guest stars on Community
Episode #181 hosted by Kevin Bachelder, Wendy Hembrock and Brent Barrett. Recorded on 2/18/12. Edited by Brent Barrett.
Share your feedback by contacting us at 206-202-4182, or on Skype to TuningInToSciFiTV. Follow us on Twitter @TuningIntoSciFi or find us on Facebook.
Theme song graciously provided by Beatnik Turtle.
Promo for The Critical Myth podcast.
Podcast: Play in new window | Download
Subscribe: Google Podcasts | RSS